We are happy to welcome Nianna Bray back after her terrible accident last May that changed her life. Through her recovery process she was able to pause and reflect deeply on what she loves most and what is important.
Nianna is an inspiring woman with a passion for empowering others. Through movement, mindfulness and attention to detail she gets right to the heart of things and guides with compassion and confidence.
Join her this weekend for her Primal Flow workshops and/or Women Rise Retreat Day. She will most definitely inspire and empower you both mentally as physically.
Nianna has been blessed with amazing teachers, assisted Shiva Rea for 10 years and has been teaching for nearly 13 joyful years. Her dedication to her students is evident as she lives her life in service. Nianna has a special connection with Holland and feels at home here. It is clear to Nianna that relationship, our human connection and our ability to be vulnerable is what gets us through even the most challenging times.
Friday Evening 19-21:30 | An Introduction into the Bray Method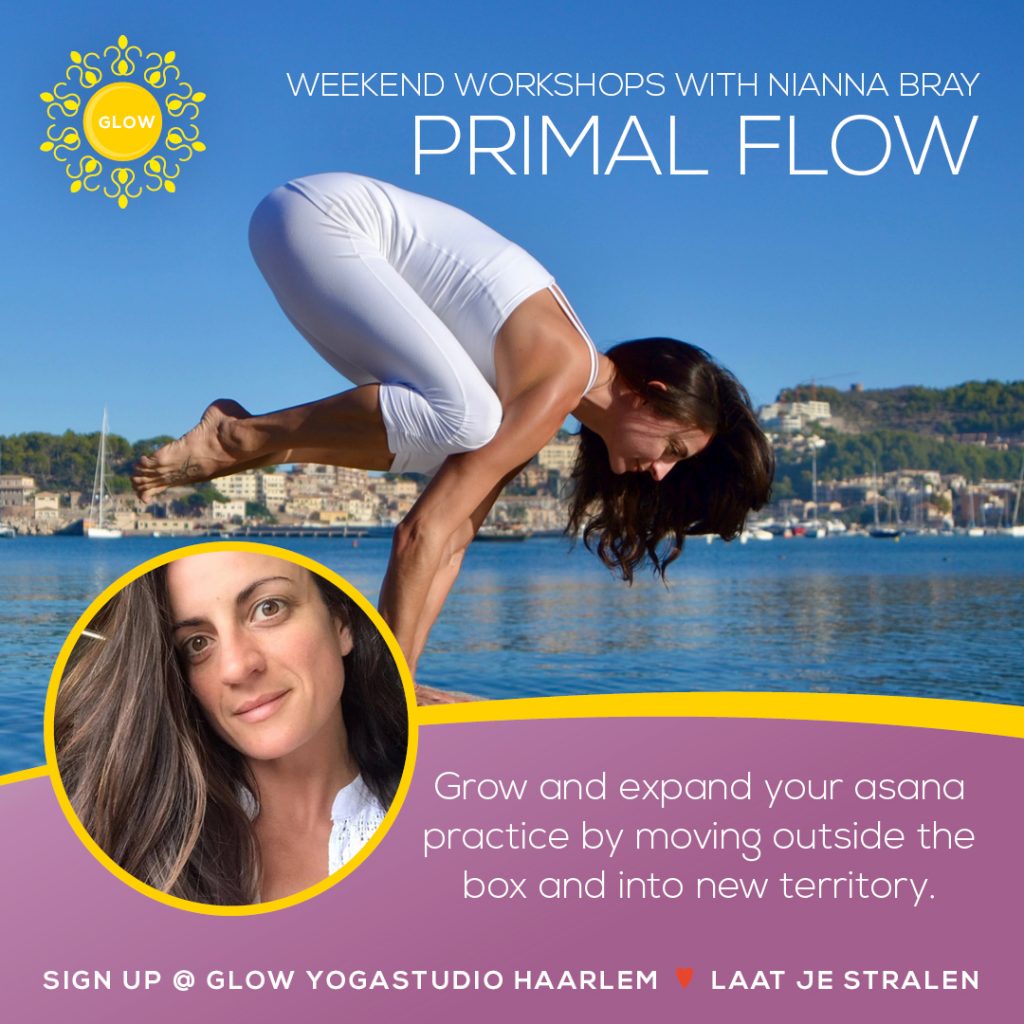 After 22 years of practice and a year of recovery from injury, Nianna Bray has combined her various studies in diverse movement modalities, yoga and buddhist philosophy, current research in biomechanics and applied somatic psychology.
With an understanding of emotional intelligence, Nianna outlines the importance of personal integrity, self-respect and leadership that can be applied on and off the mat. Her teaching style and method touch into the heart of our collective humanity and awakens compassion within each individual to seek out and live in alignment with ones own truth.
Her down-to-earth approach emphasizes the importance of practice and accountability with a playful curiosity yet reverent tribute to lineage.
Join us for an introduction into the heart of her movement method and fall in love with a new way of being.
Saturday afternoon 12-14:30 | Primal Power 
Building a solid foundation upon which to grow and expand. Working with the natural curves of the spine and strength of our pelvic floor we awaken our primal power and stand strong in our truth and purpose. If you are healing a back injury or an emotional wound this workshop will light a spark in you to never give up and encourage bravery and personal resolve. If you have been feeling stuck and uninspired this workshop will ignite passion in your heart and help you clear a path forward.
For anyone looking to widen their experience of embodiment and explore biotensegrity and active alignment this will light you up!  We will work with dynamic functional alignment based asana, potent yogic practices and mindful awareness meditations that are foundational aspects of The Bray Method.
Saturday Evening 15:30-18:00 |Primal Flow 
Taking all that we learned in the morning workshop and applying it to a deep and steady vinyasa style flow. The awareness cultivated in the morning practice will guide us into deeper states of connection with our body and breath so that we may move into more advanced asana in a healthy and harmonious way.
This is an invitation to all who want to be challenged to grow and expand their asana practice and fluid embodiment by moving outside the box and into new territory. We will work with dynamic functional alignment based asana, potent yogic practices and mindful awareness meditations that are foundational aspects of The Bray Method.
Sunday 10-17 | Women on the Rise! (all day women's retreat day)
A Feminine Empowerment Retreat Day with Nianna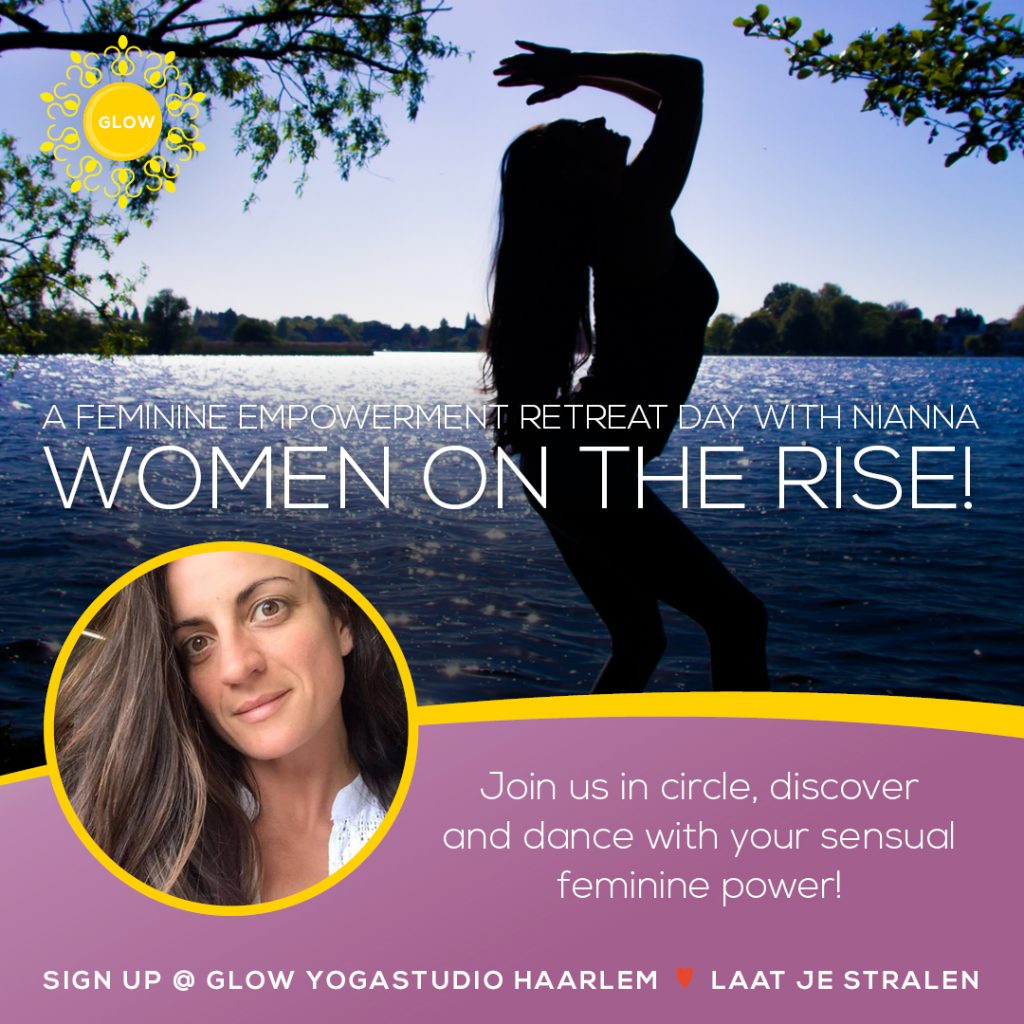 Women are on the rise. We know our strength and how powerful we are when we live and speak our truth. Nianna has a unique gift of brining women together and drawing out the best in each of us. She is able to see through our mask and help us see ourselves more clearly. This full day immersion is an invitation to gather with a circle of women in ritual and ceremony. Together we will explore our sensual feminine power through movement.

Nianna's method teaches us how to activate our pelvic floor and stabilize our hips to bring us out of pain and into easeful embodiment. We will strengthen the natural curves of our spines to awaken and connect with our inner masculine. We will unlock our hips to encourage fluid and articulate circular and spiral movements that awaken our feminine side in a sensual yet grounded way. Liberating our sensual self is part of feeling empowered as a woman. Our sensual nature can a subtle expression experienced as a unifying force of love within ourselves, for ourselves. Join us in circle, discover and dance with your sensual feminine power.
Details
160 euro | Before May 1: Full weekend Early Bird Rate when booked and paid

before May 1

175 euro | After May 1: Full weekend normal rate
35 euro | Per single workshop
85 euro | 'Women on the Rise' day retreat

only
For who: We welcome everyone (all levels) to enjoy these workshops!
Sign up online here! Important when registering: select the workshops you want to join & sign-up as unpaid to receive confirmation and payment details
Cancellation policy
If you find yourself unable to attend, please alert us as soon as possible!
Cancellations up to 14 days prior to the event can receive a partial refund or credit (25% cancellation fee).
Cancellations 14-7 days prior to the event can receive a partial refund or credit (50% cancellation fee).
No refund possible for cancellations within 7 days of the start of the event.