It takes skill, confidence and practice to assist your students with hands on techniques while teaching class. The only way to really learn and become more confident is to DO it. So come practice and play with us and improve your assisting skills during this weekend immersion for yoga teachers.
During this training we will be offering the basic principles of hands on assisting and apply them to the flow of surya namaskar A & B and various creative namaskars as well as to intermediate asanas.
We will dive deeper into the energetics, key actions and common misalignments of poses and their modifications. You will learn to observe different students in asanas and you will cultivate an understanding of what to look for as a foundation for safe and effective assists.
Every day we will start with a practice that will include lots of partner work. Namaskars, standing poses, forward bends, backbends and twists will be the focus of this immersion.
Course Essentials:
3 Embodiment practices, focussed on self assisting techniques and assists of intermediate asanas
Art of touch: cultivating receptivity and confidence in the way we touch
Analysis of anatomical and energetic alignment of asanas, their modifications and their hands on assists
Common misalignments and how to approach an assist
Do's and dont's of hands on assists
Partner work; practicing assists 
Teaching skills: assisting while flowing through a vinyasa class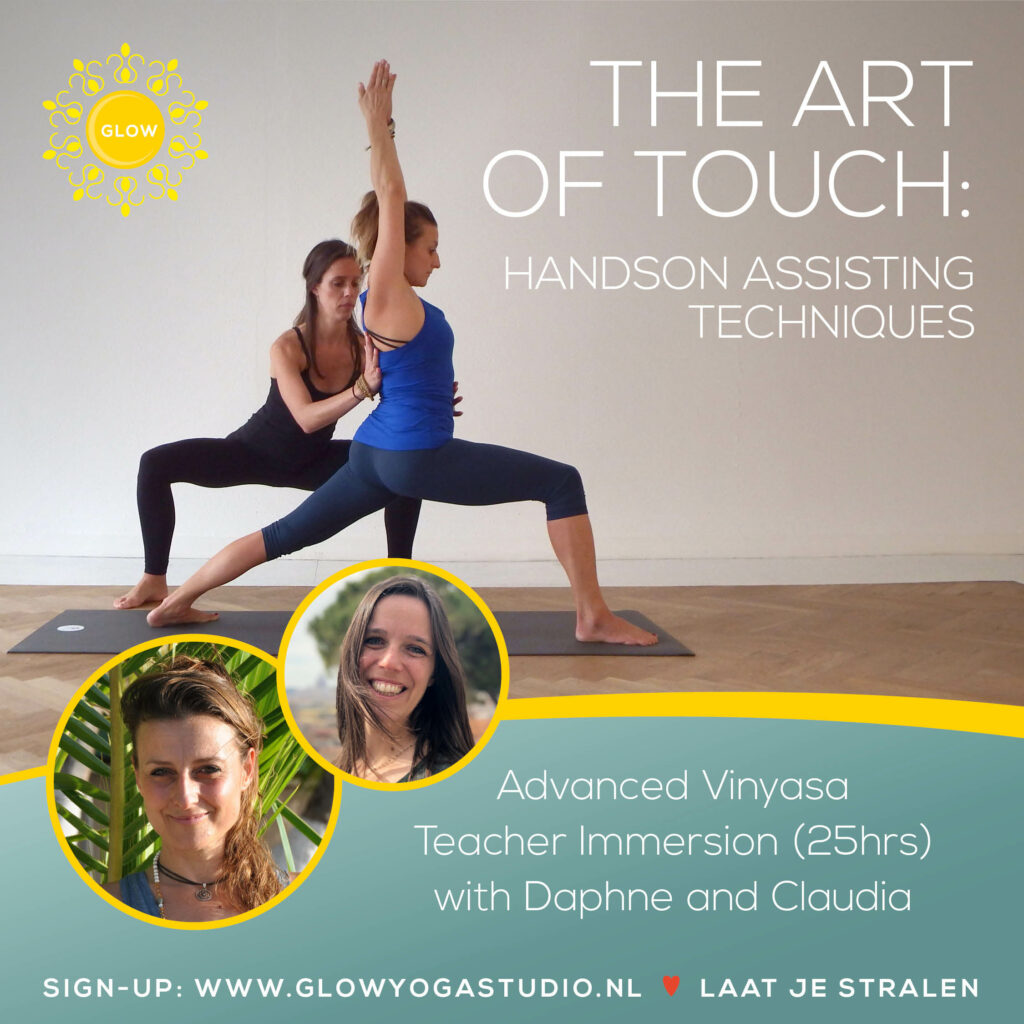 ---
300hr Glow Advanced Vinyasa Yoga Teacher Training

This module is part of our 300hr Advanced Vinyasa Teacher Training program. It can be booked as a separate module (Continuing Education Program) or as part of our full training.

The training offers you a solid and rich addition to your 200 hrs foundation vinyasa program and allows you to study in an environment that is both safe and inspiring. The structure of our training honours the requirements of Yoga Alliance advanced (300hrs) studies and offers you the certainty of a full spectrum, well balanced advanced vinyasa teacher training  program.

Daphne and Claudia invited guest teachers to share their expertise, experience and wonderful energy with you, which makes this teacher training a one of a kind journey.

Our mission is to support you on the path of becoming an embodied, authentic and inspired vinyasa yoga teacher. 

More info about our 300hr program here or email teachertraining@glowyogastudio to receive more information.
Details
Teachers: Daphne Koken & Claudia van der Tier
Price: 350 euro incl. 21% vat
Dates & times: 
– Friday 11 Nov: 13:00 – 21:00
– Saturday 12 Nov: 13:00 – 20:00
– Sunday 13 Nov: 09:00 – 18:00

Sign up 
You can reserve and pay your spot here.