Embody the elements of Nature as part of your gentle vinyasa practice.
Tapping into the healing properties of the elements of Nature will allow us to create gentle vinyasa sequences that are nourishing, soothing, revitalising and replenishing.
During this Lunar Elemental Vinyasa Teacher Immersion we will slow down and dive into the lunar arts, as part of our vinyasa yoga practice. We will be flowing through daily, lunar elemental vinyasa sequences that invite us to replenish and revitalise our energy on a deep, cellular level. We will explore the lunar qualities of earth, water, fire, air and space as a foundation for creating classes that affect our students on an energetic level.
You will experience the nourishing, grounding, soothing and cleansing effects of the elements which will allow you to integrate these qualities in the way you teach. Join us for a lunar elemental journey and let nature be your inspiration to create magical gentle vinyasa classes.
Course Essentials:
4 Embodiment practices focussed on Earth, Water, Fire and Air & Space
Philosophical background of the elements, nature and lunar vinyasa
Analysis of the embodiment practices
Analysis of the qualities and benefits of the 5 elements in Nature
Effective cues for cultivating connection with the elements in a lunar way
Teaching skills & teaching labs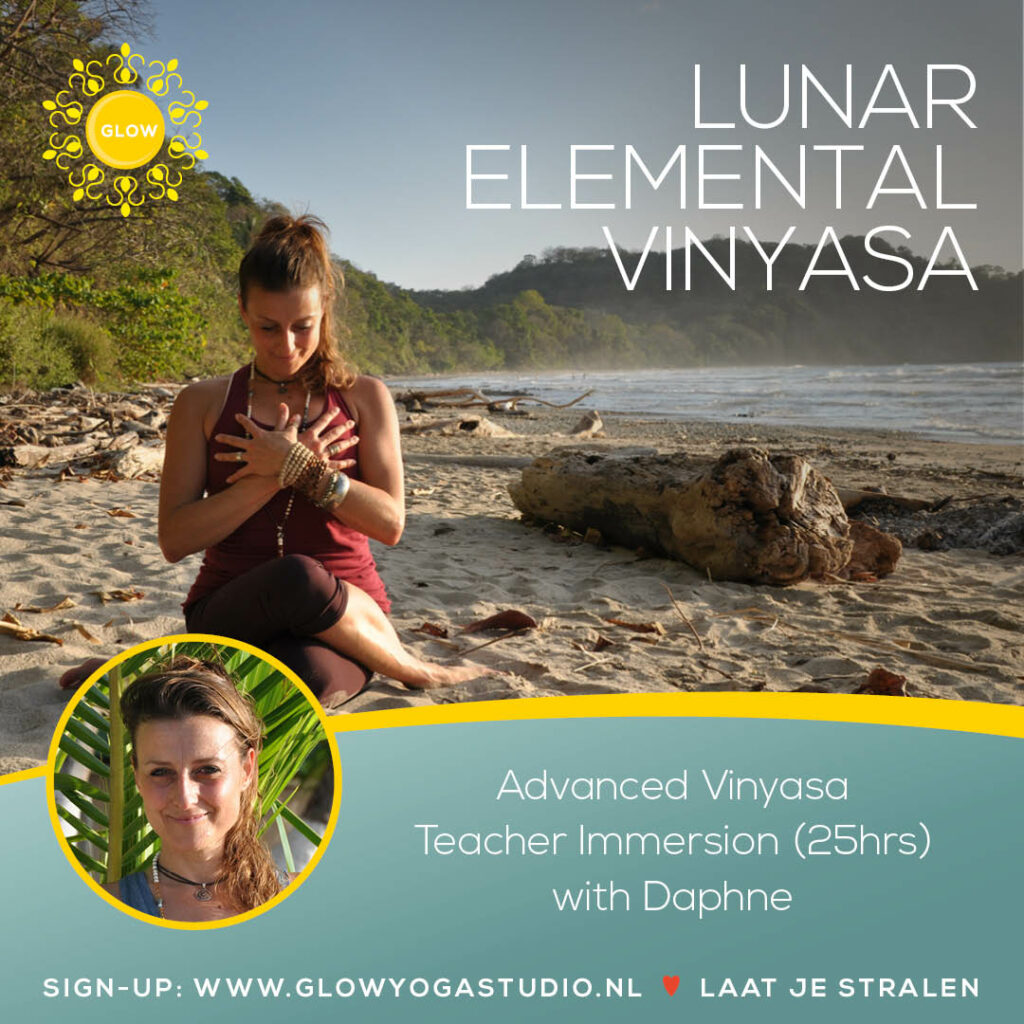 300hr Glow Advanced Vinyasa Yoga Teacher Training

This module is part of our 300hr Advanced Vinyasa Teacher Training program. It can be booked as a separate module (Continuing Education Program) or as part of our full training.

The training offers you a solid and rich addition to your 200 hrs foundation vinyasa program and allows you to study in an environment that is both safe and inspiring. The structure of our training honours the requirements of Yoga Alliance advanced (300hrs) studies and offers you the certainty of a full spectrum, well balanced advanced vinyasa teacher training program.

Daphne and Claudia invited guest teachers to share their expertise, experience and wonderful energy with you, which makes this teacher training a one of a kind journey.

Our mission is to support you on the path of becoming an embodied, authentic and inspired vinyasa yoga teacher.

More info about our 300hr program here or email teachertraining@glowyogastudio to receive more information.

Details
Teacher: Daphne Koken
Price: 350 Euro incl. 21% vat
Dates & times: 
– Friday 20 January: 13:00 – 21:00
– Saturday 21 January: 13:00 – 20:00
– Sunday 22 January: 09:00 – 18:00

Sign up 
You can reserve and pay for your spot here.
Masterclasses
The embodiment practices of this teacher immersion can also be booked separately as master classes. Both teachers and regular students are welcome. More information coming soon.